Ever since I had the pleasure of performing rudimentary data entry for the local library, I have been a coffee drinker. Initially, I would consume coffee in order to stave off the ever present threat of falling asleep while at work, but as my tastes have evolved so has my appreciation for coffee. Before I knew it, I no longer thought of coffee as a dark bitter sludge to be used as a tool of sustainability, but more as a succulent delicacy that I should limit to once per day. During the time that I was acquiring the taste of black coffee, it didn't help to be teased by gourmet shops offering mocha's, latte's and everything in between. After comparing the quality offered by a coffee house to my own store boughten brew, I would almost always end up depressed. Why must my boughten coffee develop a burnt, stale taste after only a week? I certainly am not interested in paying $3 - $5 for a gourmet cup each day. I also am not interested in buying a months worth of stock that will only taste good for a week. So how do we overcome this perplexing conundrum?


Why, we roast and grind our own coffee!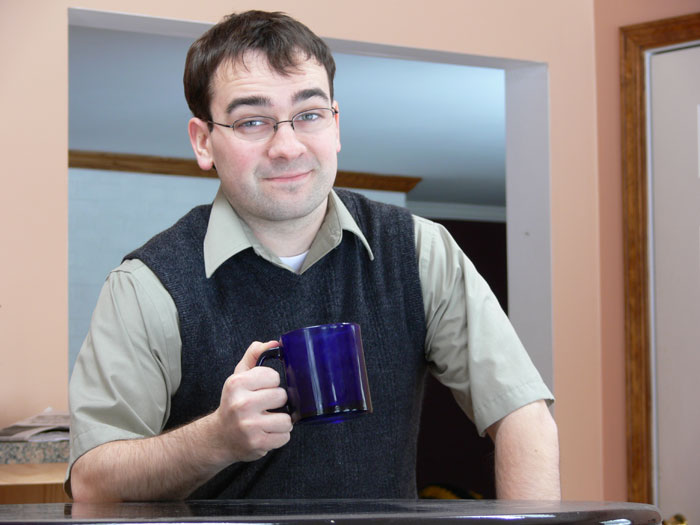 Despite what you have probably seen on many coffee sites or television, roasting your own coffee is actually quite simple and doesn't require any special tools. There are only two uncommon items that you will need in order to taste the best coffee each and every day. The first is a coffee grinder, which can be picked up in local department store for twenty dollars or less. The second is un-roasted or green coffee beans. These can either be picked up from a local shop (if you live in a large city), or ordered online. I have always ordered my beans from
Sweet Maria's
.
Manifesto of Supplies
1. Green Coffee Beans
2. Small Pot with a lid
3. Container to Place roasted beans in (I use an empty margarine container)
4. Coffee Grinder
5. Place to put coffee shucks (these flake off while roasting)
In order to roast our coffee, we will simply be cooking it in a pan on the stove top. I like to use a small pan because it is easier to shake the beans around, and I have also noticed that I get a more even roast than with larger cook ware.
Step 1 - Degree of Roast
Sweet Maria's great pictorial charts
in order to determine what your roast will look like when it is done. I normally roast what I believe to be a weeks worth of coffee each batch. This way, I am sure that I will always have extremely fresh coffee. Depending on if you use an espresso machine or traditional drip brewer, the amount of beans you roast for a week will surely vary. I reccomend to start with 1 cup. The easiest thing to do is experiment.
Step 2 - Starting the Roast
Step 3 - Moisture
Step 4 - Agitation
Step 5 - Shucks
Step 6 - Post Roast
Step 7 - Storage
Step 8 - Enjoy!
Grind your beans and enjoy the highest quality coffee you have ever had! I usually brew my coffee one cup at a time using an espresso machine. However, I have taken my roast into work and received rave reviews using the standard coffee brewer. Making coffee this way has definitely been a rewarding and flavorful experience for me. I doubt I will ever go back!